Our Veterinarians
The Lenoir Veterinary Hospital team of skilled veterinarians welcomes you to our practice. Proudly serving the Lenoir area. At Lenoir Veterinary Hospital, it is our daily privilege to provide quality vet care to your cherished pet, with compassion and competence. We hope to ensure a positive impact on our patients, pet owners and the local community.

Kathy Frye, DVM
Kathy Frye, DVM received her degree from The University of Georgia College of Veterinary Medicine in 2013. She worked as a veterinary technician for 10 years before attending veterinary school. Her primary interests are feline medicine, behavioral medicine, and preventative medicine. She is a member of the AVMA, NCVMA, AVSAB and AAFP. In her free time, she enjoys reading, dance, and spending time with her feline family.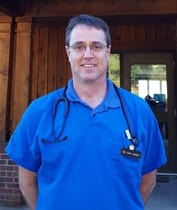 Dan Jones, DVM
Dan Jones, DVM has been practicing in Lenoir for 21 years. He is a 1989 graduate of North Carolina State University College of Veterinary Medicine and is certified in veterinary acupuncture and veterinary spinal manipulation (similar to human chiropractic care). Dr. Jones incorporates acupuncture and herbal supplements with traditional veterinary medicine. His primary interests are soft tissue surgery, orthopedic surgery, herbal medicine and acupuncture. He is a member of the Caldwell County Dangerous Dog Advisory Board, the AVMA and the NCVMA. During his free time he enjoys hiking and he practices and teaches tae kwon do and spending time with family.